Zeus Referral Reward System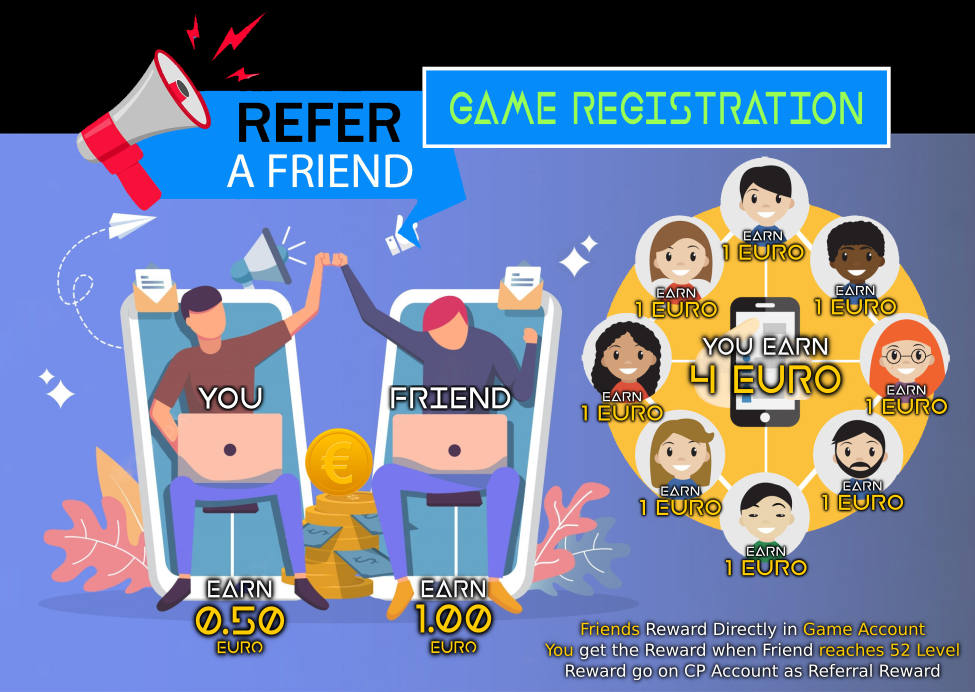 Zeus Referral Reward
We are some days before the Grand Opening of this Beautiful Low Rate Server.
We believe in Community Power for this reason we decide to provide Account Cash Reward (VIP / BLESS / SKINS) for all players.
The joining process is very simple,
• Register an account in the Control Panel (https://cp.l2jzeus.com/).
• Go to Menu > Referral and receive your Referral code.
Now you can use it in any way you want by sending the Link to your friends.
• Through Social Networks
(Facebook, Instagram, TikTok, Twitter etc).
• Within Facebook groups.
• Inside Forums.
• Via email.
• Via SMS.
• Via Messenger.
• Via Viber.
• Via Whatsapp.
• Through your videos on Youtube.
• Via Live Streams.
Or in any other way you decide.
How does it work;
For each friend of yours who clicks on the link registering an account then you are rewarded with 0.50 euros when one of the characters in the new account completes 52 levels.
Your friend's account will be immediately rewarded with the amount of 1.00 euros and he will be ready to start using the Referral Reward System and collecting money in his account.
You collect this amount as a Referral Reward and when this money becomes more than 5 euros then you will be able to convert it into Euros in your Gaming account.
With this money you will be able to activate VIP, Bless or Skins and enjoy your daily game.
Abuse of this feature will result in termination of your account.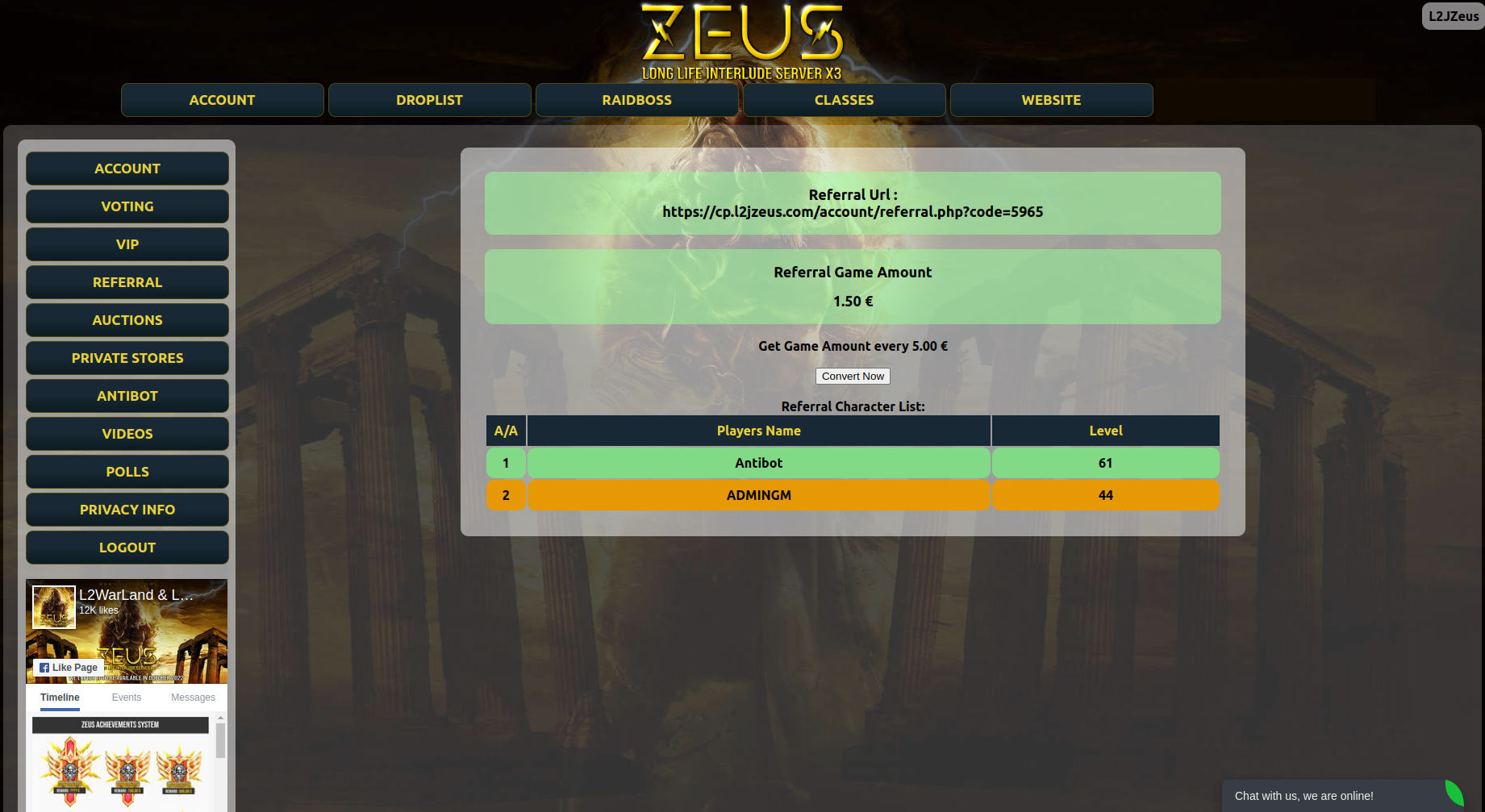 How Referral System Works.
Copy our provided Ready to Use Promotional Texts and Banners or Create yours.
Share in Social network, Emails, SMS etc
Every player to click on your post and register a account on Server provide you 0.50 euro (when complete 52 level)
as example make a share on a Facebook Lineage2 Group
from this Group 100 Players click on Link and Register a account.
When Zeus x3 Begin (1 Oct 2022) and they level up the chars up to 52 level
you get 0.50×100 = 50,00 euro on your Gaming Account
that provide you FREE VIP for 10 Months !!!
is extreme easy to promote YOUR server and earn Account Cash Reward
Start your Copy & Paste and Collect your Rewards TODAY
🔥 NEW LOW RATE INTERLUDE PROJECT 🔥
ZEUS x3 – LONG LIFE WORLD
What 🌍 Lineage2 Community 🌍 Want?
1. A Stable Retail Server ✅.
2. A Real Long Life Server (min 2 years) ✅.
3. A Uncorrupted Admin ✅.
4. A Demanding World like the Old Good Days ✅.
5. Cash Reward on Bank Account with Zeus Achievements System ✅.
6. Minimum Buffs / Auto Farm / Balanced Game ✅.
7. A PLAY to WIN and not PAY to WIN Server ✅.
What is your choice ? !!! ❤️ L2JZEUS.COM ❤️ !!!
🆘 Register Today 🆘
COPY_YOUR_REFERRAL_LINK find it here : https://cp.l2jzeus.com/account/referral.php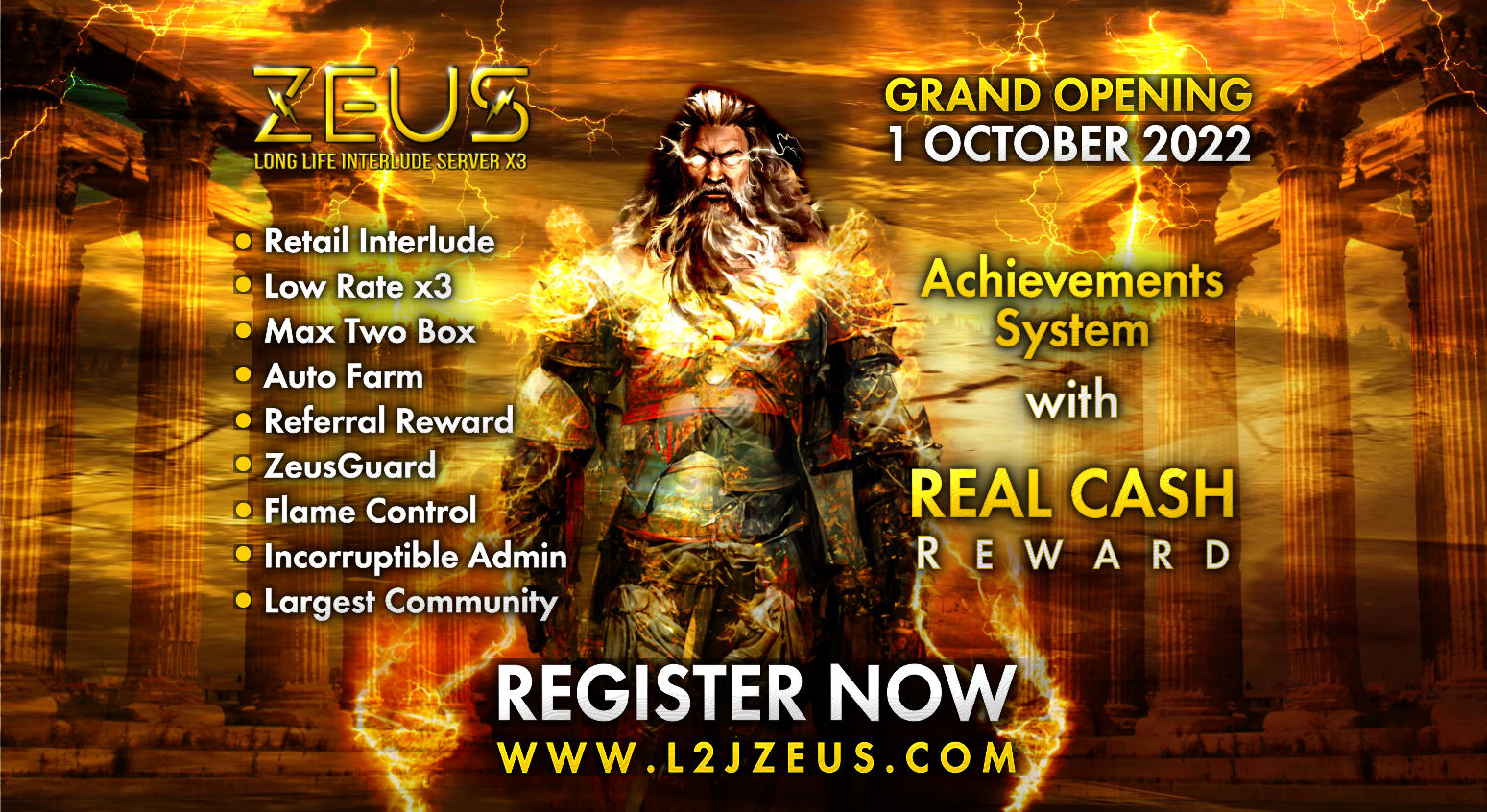 🔥 NEW LOW RATE INTERLUDE PROJECT 🔥
ZEUS x3 – LONG LIFE WORLD
What 🌍 Lineage2 Community 🌍 Want?
1. A Stable Retail Server ✅.
2. A Real Long Life Server (min 2 years) ✅.
3. A Uncorrupted Admin ✅.
4. A Demanding World like the Old Good Days ✅.
5. Cash Reward on Bank Account with Zeus Achievements System ✅.
6. Minimum Buffs / Auto Farm / Balanced Game ✅.
7. A PLAY to WIN and not PAY to WIN Server ✅.
What is your choice ? !!! ❤️ L2JZEUS.COM ❤️ !!!
🆘 Register Today 🆘
COPY_YOUR_REFERRAL_LINK find it here :
https://cp.l2jzeus.com/account/referral.php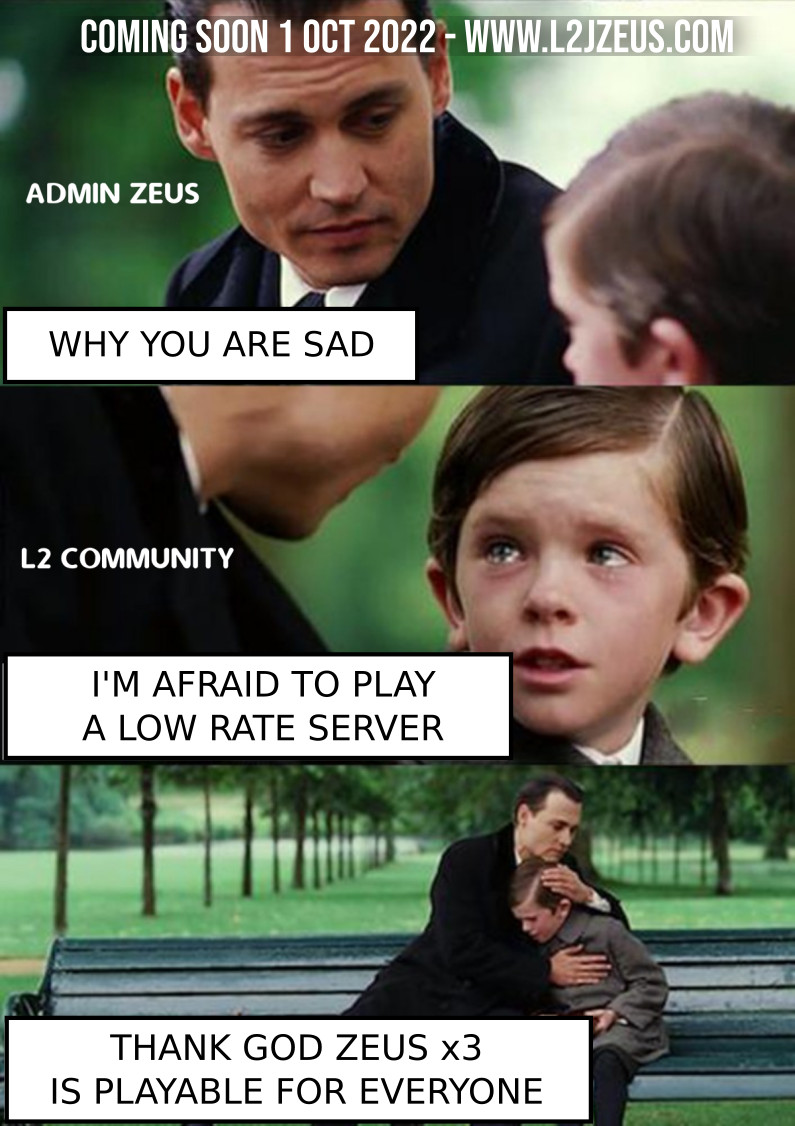 🔥 NEW LOW RATE INTERLUDE PROJECT 🔥
ZEUS x3 – LONG LIFE WORLD
What 🌍 Lineage2 Community 🌍 Want?
1. A Stable Retail Server ✅.
2. A Real Long Life Server (min 2 years) ✅.
3. A Uncorrupted Admin ✅.
4. A Demanding World like the Old Good Days ✅.
5. Cash Reward on Bank Account with Zeus Achievements System ✅.
6. Minimum Buffs / Auto Farm / Balanced Game ✅.
7. A PLAY to WIN and not PAY to WIN Server ✅.
What is your choice ? !!! ❤️ L2JZEUS.COM ❤️ !!!
🆘 Register Today 🆘
COPY_YOUR_REFERRAL_LINK find it here :
https://cp.l2jzeus.com/account/referral.php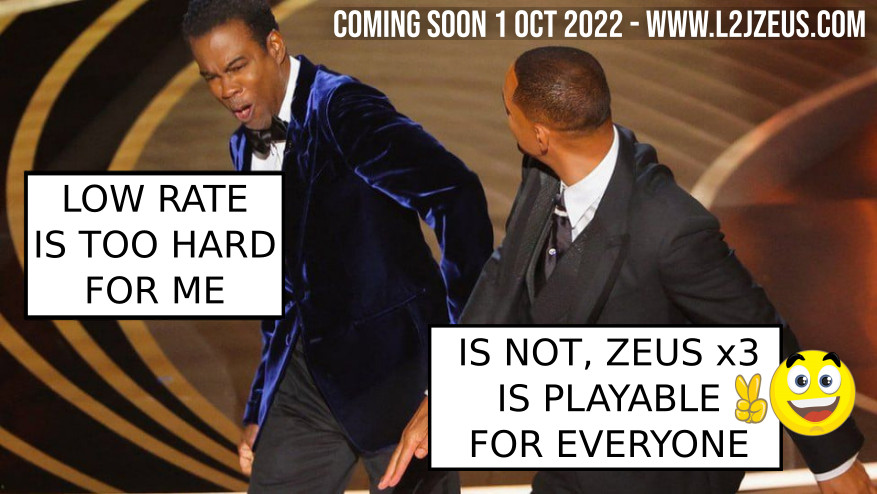 Zeus x3 is a base on Lineage2 Interlude Server created only for one reason to build a bridge between Low and Mid Rate Community